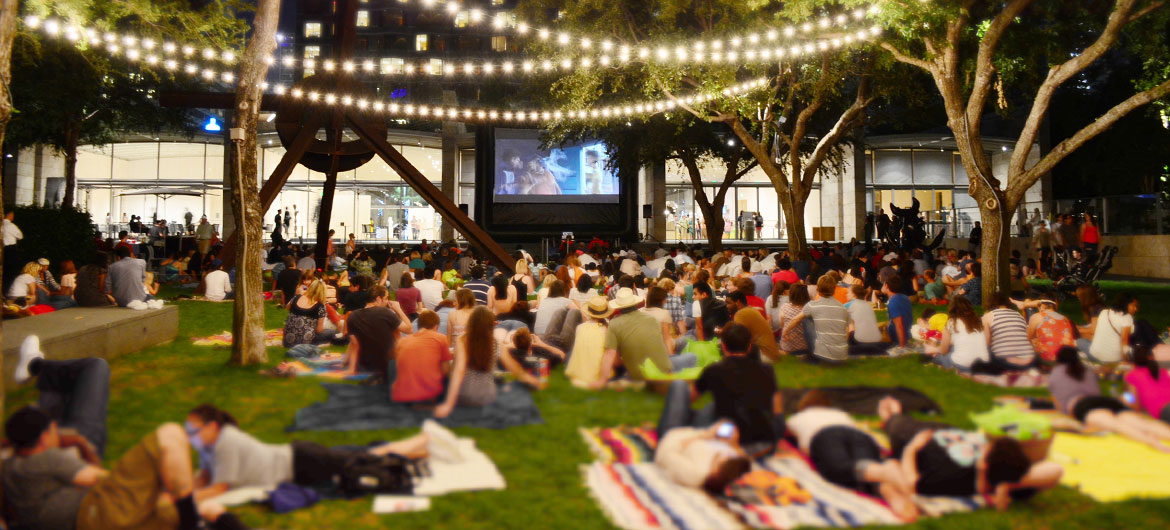 Around here, we're big fans of the number free. And live music. And movies. And art. And…well, you get the idea.
So we're thrilled that 'til Midnight at the Nasher is back for its 2016 season! On the third Friday of each month from May to October, guests of this totally rad summer event can enjoy an evening of live music, film and food — all in the gorgeous setting of the Nasher Sculpture Garden.
This year, guests also have the opportunity to participate in social media scavenger hunts, progressive tours and to view the permanent collection and special exhibitions. Nasher Cafe by Wolfgang Puck will provide grab-and-go snacks, or you can pre-order a picnic dinner for two — which, P.S., you can have the chance to win from KXT throughout the season! To enter, check in with our blog each Wednesday before a show.
Here's a look at this year's schedule and lineup:
May 20:
Concert: Pleasant Grove 
Film: Coraline, 2009 (PG)
June 17: Dallas Arts District Summer Block Party
Concert: The O's
Film: Grand Budapest Hotel, 2014 (Edited for wide audience)
July 15:
Concert: Northern National
Film: Weekend at Bernie's, 1989 (PG-13)
August 19:
Concert: Gollay
Film: Brooklyn, 2015 (PG-13)
September 16:
Concert: Jack Kerowax
Film: Pleasantville, 1998 (PG-13)
October 21:
Calliope Musicals and Wild Child
For more information about 'til midnight, click here.